The following are remarks by Executive Director Heather Gallant at the Claire's Night reception on May 16, 2013.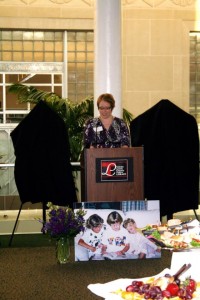 "Thank you all for coming this evening, and thank you, Chrys [Peterson WTOL news anchor], for serving as our master of ceremonies tonight.
You know, I never knew Claire Rubini. Some of you here tonight had the joy of knowing her for the 10 short years of her life, and you've rallied around her family year after year to support them in their grief journey as they've built this wonderful organization.
But many of you here tonight are in the same position as me, having never known Claire, and yet here you are supporting this family and the mission of Claire's Day. Though you never knew this feisty, beautiful, lovely, creative, bright child, you contribute in ways large and small to continue her legacy. And I think I have an idea of why.
Whether we knew Claire or not, we see her every day. Speaking for myself, I see her in the eyes of her parents, Brad and Julie. When they talk about Claire, they sometimes hold back tears. At other times, their eyes twinkle as they remember a funny story about her. Still other times, they beam with pride about all three of their children.
I've seen her in the faces of the 9,500 children at the 23 school visits this week as they can barely contain their excitement about seeing and meeting these extremely gifted and creative authors and illustrators that are here this evening:
Mark Crilley
Rhonda Gowler Greene
Valiska Gregory
Bruce Langton
John Manders
Kristin Nitz
Elizabeth Raum
Betsy Snyder
Lisa Wheeler
and Cinda Williams Chima.
The children are barely able to contain themselves and are leaping out of their chairs because they are SO. EXCITED. TO SEE. WHAT THE STORYTELLER. IS GOING. TO SAY. NEXT! That's how I imagine Claire would have felt if she was sitting in that crowd today.
I feel her generosity of spirit in our corporate sponsors, when they hear her story and the good that has come out of tragedy. When they decide that yes, out of all the causes that are happening in our community and in the world, our mission of inspiring a lifelong love of reading is a worthy and commendable one. Sponsors like our title sponsor for this evening's event, Hollywood Casino. Sponsors like our title sponsor for Saturday's festival, Lockrey Manufacturing.
Partners like the Toledo-Lucas County Public Library
WGTE
Glass City Federal Credit Union
ProMedica
Toledo Spring
both the Toledo and Maumee Rotary Clubs
the Ohio Virtual Academy
Tireman
I have to keep going, because there are so many incredible supporters this year! Like:
Signature Bank
Spoke
First Federal Bank
Little Rainey Illustration
Rehmann
The Andersons
The Toledo Blade
The University of Toledo Foundation
Ulrich Pinciotti Design Group
and UPS.
This list is astounding, and growing! And we thank you, from the bottom of our hearts, for your support.
I know Claire is with all of our planning committee members and Board members, many of whom are here this evening. These people work tirelessly for the better part of a year to put together the largest children's book festival in Northwest Ohio, and they share their skills and talents, asking for very little in return. We would be a sinking ship without them.
I see Claire in the teachers and the librarians who receive the book grants from Claire's Day, because they know that each of the books they are adding to their collections could light a spark in the children they serve every day. This year, we disseminated over $3,000 worth of books to local schools, we will give $2,500 to the Library Legacy Foundation to purchase books by local Claire's Day authors, and we will give out about $3,300 worth of books to 421 of the most-improved readers in the region on Saturday. That's a grand total of about $9,000 worth of books in the hands of children, children whose lives will be changed, who will be inspired by Claire's legacy even though they did not have the opportunity to meet her.
And, finally, I see Claire in my own daughter when she brings a book to me and yells, "Sing it!" (her toddler version of "read to me, please"), or when she says, "I read this to you, Mama", and then recites each page of her favorite book from memory. Many of us can identify with the Rubini's unconditional love for their little reader, and we share the sorrow of their loss.
And while I can't fathom what the Rubinis have endured over the last thirteen years in the wake of Claire's death, and even though I didn't know her, I can, with your help, continue to live their vision for this organization so that Claire's legacy lives on through the children and families in this community. Together, we can inspire them to be lifelong readers.
Thank you again for coming this evening, and for your ongoing support."