Author Archives: cdadmin
14th Annual Claire's Day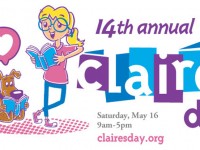 Saturday, May 16, 2015
Maumee Branch Library, 501 River Rd., Maumee, OH 43537
Join us for a spectacular day at the Maumee branch, Toledo-Lucas County Public Library as we celebrate life, authors, illustrators and reading excellence.
---
Thinking of attending? Please take a look at the highlights for the day.
A big thank you to all of our sponsors this year!
---
Claire's Day is Northwest Ohio's largest children's book festival! Celebrating the life of Claire Lynsey Rubini who passed away at age 10. This 14 year old tradition grows each year as more than 6,000 people venture to Maumee to join in the fun! Claire's Day shares Claire's love of reading with children and families.
When you join us you will be able to
Meet children's authors, illustrators and storytellers!
Enjoy live music, hands-on craft area (all free)
Participate in fun activities at the park
Visit the Barnes & Noble Book Sale area, purchase books and then have the author or illustrator sign your book for you!
Purchase food, t-shirts and other fun book items.
It really is all FREE thanks to our generous donors! But bring along money for food, beverages, t-shirts and book purchases!
---
We are very proud to present this year's participating authors and illustrators! To learn more, visit their individual websites!
Nancy Carlson
www.nancycarlson.com
David Catrow
www.catrow.com
Jeff Ebbeler
www.jeffillustrators.com
Ryan Gebhart
Michelle Houts
www.michellehouts.com
Marlane Kennedy
www.marlanekennedy.com
Marilyn Weymouth Seguin
www.marilynwseguin.com
Buffy Silverman
www.buffysilverman.com
Michael Spradlin
www.michaelspradlin.com
Laurence St. John
www.laurencestjohn.com
Tricia Springstubb
www.triciaspringstubb.com